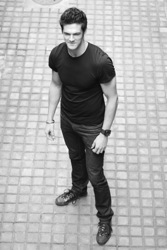 Ian is a young british architectural designer based in Shanghai, PR China. He is an associate and lead designer for internationally acclaimed studio Broadway Malyan. He has recently successfully led a high profile supertall tower to top three shortlisting in an international design competition beating star-architects of repute. 

In 2009 Ian graduated as a Master of Architecture from the Royal College of Art London. Graduating with a distinction for both thesis and dissertation he was subsequently nominated for the Royal Institute of British Architects Presidents Silver medal. He also won the Conran Foundation Award that year and the New London Architecture Prize as well as securing a Solo exhibition at London's Building Centre. In 2006 Ian graduated with first class honours and was nominated for the Royal Institute of British Architects Presidents Bronze medal by The Birmingham School of Architecture.

In 2009 Ian founded i-n-d-j architecture & design and has been involved with a broad range of projects, displaying his skill and versatility as a designer; from commissions by the London Design festival with a lead installation at the Victoria & Albert Museum, a lead project for the Melbourne design festival, and a commission at the world famous ice hotel working with internationally acclaimed designer Ben Rousseau. Ian has been internationally published and has practised globally from the United Kingdom and Europe to New Zealand and Australia with work spanning all corners of the globe. More recently Ian has been working in practice in Melbourne Australia and is now furthering his career in world's foremost market PR China.